The Book Blog
4 readings + recordings

Comments/reflections welcome here
Readings are from Simple Bible
c.f. readings for Birthday of John the Baptist
Jeremiah 1

Jeremiah lived in a village not far from Jerusalem. Jeremiah's father was a priest.
God said to Jeremiah: "Before I formed you in the womb, I knew you. I have appointed you as prophet to the nations."
Jeremiah said to God: "Lord, I do not know how to speak. I am so young."
God then touched Jeremiah's mouth and said: "I now put my words into your mouth. Go and tell the people everything I ask you to speak.
Do not be dismayed by anyone. I am making you strong.
You must confront Judah's kings, priests and people. They will oppose you, but will not overcome you, for I am with you."
Lord, please give special courage
to people who speak your message for the world
My recording of this reading

Psalm 71

In you, O Lord, I take refuge. Please hear me and help me.
Be a rock where I can take refuge.
Rescue me from people who want to hurt me.
It is you, O Lord, who are my hope. In you I have trusted since I was young.
From my mother's womb you have been my help. My hope has always been in you.
Now that I am old, please do not forget me. Now that my strength fails, do not abandon me.
Now that I am old and grey-headed, may I continue to trust in you and proclaim your help.
To you I will sing with the harp. All day long my tongue will tell of your goodness to me.
Lord, may all elderly people put their trust and hope in you
1 Peter 1.8-11
You did not see Jesus Christ, yet you love him; and still without seeing him, you are already filled with a joy so glorious that it cannot be described, because you believe; and you are sure of the end to which your faith looks forward, that is, the salvation of your souls.
It was this salvation that the prophets were looking and searching so hard for; their prophecies were about the grace which was to come to you.
The Spirit of Christ which was in them, foretold the sufferings of Christ and the glories that would come in the future.
Jesus, foretold by prophets like John the Baptist, we praise you Lord!
Recording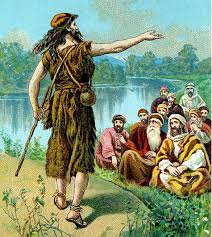 Luke 1.5-25

When Herod was king of Judea, there was a priest named Zechariah and his wife Elizabeth who were really good people, but they were childless

Once when they went to the Temple in Jerusalem, Zechariah entered the inner sanctuary to burn incense, while all the people prayed outside
An angel appeared and said "Zechariah, your prayer has been heard. Your wife will have a son and you must name him John. He will prepare the way of the Lord"
Not long after this, Elizabeth conceived, and for 5 months she kept to herself, thanking God for taking away her humiliation at not being able to have a baby
Jesus, please help childless couples to have a baby
Recording

The Joy of Love - Pope Francis' letter - on love in the family Full English text
75: Recording

In the Church's Latin tradition, the ministers of the sacrament of marriage are the man and the woman who marry;70 by manifesting their consent and expressing it physically, they receive a great gift. Their consent and their bodily union are the divinely appointed means whereby they become "one flesh".
By their baptismal consecration, they were enabled to join in marriage as the Lord's ministers and thus to respond to God's call. Hence, when two non- Christian spouses receive baptism, they need not renew their marriage vows; they need simply not reject them, since by the reception of baptism their union automatically becomes sacramental.
Canon Law also recognizes the validity of certain unions celebrated without the presence of an ordained minister.71
The natural order has been so imbued with the redemptive grace of Jesus that "a valid matrimonial contract cannot exist between the baptized without it being by that fact a sacrament".72
The Church can require that the wedding be celebrated publicly, with the presence of witnesses and other conditions that have varied over the course of time, but this does not detract from the fact that the couple who marry are the ministers of the sacrament. Nor does it affect the centrality of the consent given by the man and the woman, which of itself establishes the sacramental bond.
This having been said, there is a need for further reflection on God's action in the marriage rite; this is clearly manifested in the Oriental Churches through the importance of the blessing that the couple receive as a sign of the gift of the Spirit.
79: Recording

In this universe, shaped by open and intercommunicating systems, we can discern countless forms of relationship and participation.
This leads us to think of the whole as open to God's transcendence, within which it develops.
Faith allows us to interpret the meaning and the mysterious beauty of what is unfolding.
We are free to apply our intelligence towards things evolving positively, or towards adding new ills, new causes of suffering and real setbacks.
This is what makes for the excitement and drama of human history, in which freedom, growth, salvation and love can blossom, or lead towards decadence and mutual destruction.
The work of the Church seeks not only to remind everyone of the duty to care for nature, but at the same time "she must above all protect mankind from self-destruction".[47]
Please join me in praying for one part of the world each day of the week:
Sun: Africa Mon: Europe & Russia Tues: South Asia Wed: East Asia
Thurs: S.E. Asia & Pacific Frid: South America Sat: Central & North America

Jesus, today, Thursday, please bless the people of S.E. Asia & Pacific

And praying for prisoners in one part of China each day of the month:
On this 24th of the month, Jesus please bless the prisoners of Inner Mongolia
And praying for one of the world's poorest countries each day of the month:
On this 24th of the month, Jesus please bless the people of Zambia
And praying for one Islam-related intention each day of the week:
Jesus, please pacify Al-Qaeda
Letters from (mainly African) inmates in Hong Kong prisons - and other drug trafficking items: 2016
This website's Tanzania File
(stopping Africans from being tricked into bringing drugs to HK)
- letters from Tanzanian inmates in Hong Kong prisons
This website's HK Asylum Seekers' File
(stopping South Asians from being "people smuggled" to HK)