English students:
seven new recordings with text each day.
See below:
The Book Blog, Laudato Si, The Joy of the Gospel, JL
Use to/from school/work!

V2Catholic.com A voice for the poor
Edited by Hong Kong prison chaplain Fr John Wotherspoon O.M.I. 胡 頌 恆 神 父 jdwomi@gmail.com
To search for items on this site: use Google and put "v2catholic" before item required

DV A n

ew menu 7 days a week

to help people keep up to date with what is happening in the world and in the Church, with a special hope that English students and sick friends will find The Book passages a source of extra help and encouragement
---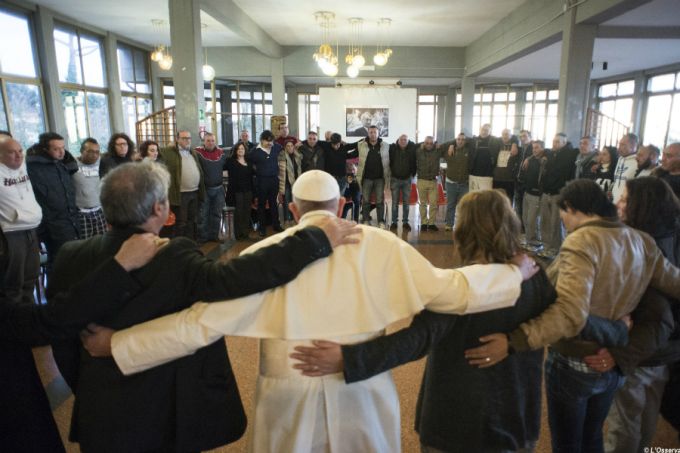 Pope's surprise visit to drug treatment centre
Pope is practising what he preaches: "get out and mix with the poor"
HK readers might like to join me in praying each day for one group of HK prison inmates: Sun: Lo Wu Mon: C.I.C., Siu Lam, Tai Lam Tue: Stanley Wed: Hei Ling Chau Thu: Lantau Fri: Lai Chi Kok Sat: Hospitals, Pik Uk & other centres
---
On revolving map:

Left click bottom right silver button

Left click country

Left click state/province

....till you find your city/town !

Left click this table of flags for details of hits on this main page


Table shows location of readers:
Australia 22%; HK 19%; UK 16%; US 14%; Canada 7% ; Tanzania 5%

---
This website was launched in construction mode in Hong Kong on November 20, 2011 - the Feast of Christ the King.
The official launching was held on the Gold Coast, Australia, on January 20, 2012
Map and Flag Counter began Feb 11, 2012. Previous visits 4,932.
Note: counter on this page + Map & Flag Counter record visits only to this main/index page. Visits to other pages are not recorded.
This site's July 2016 statistics
Thank you for checking this website each day. God bless all readers and bloggers!