The Book Blog
4 readings + recordings

Readings are from Simple Bible
(which has Chinese translation available)
Sirach 29-31
Help others in their time of need.
When people ask you for help, do not turn them away.
Do not let your children grow up wild. Teach them self control and self-discipline from their earliest years.
Good health is better than silver and gold. Better to be poor and healthy than rich and sick.
Do not give in to brooding and fretting when things go wrong.
Even in the saddest situation, look for light at the end of the tunnel.
Avoid jealously and anger.
Jealously and anger will shorten your life.
A moderate diet will help you sleep well. Gluttony produces sleeplessness, biliousness and grumpiness.
Wine was made to cheer our hearts. But drinking to excess will reduce your strength.
Lord, please help me be moderate with food and drink
My recording of this reading

Psalm 123
To you have I lifted up my eyes,
you who dwell in the heavens.
My eyes, like the eyes of slaves
on the hand of their lords.
Like the eyes of a servant on the hand of her mistress, so our eyes are on the Lord our God till he show us mercy.
Have mercy on us, Lord, have mercy. We are filled with contempt.
Indeed all too full is our soul with the scorn of the rich, with the proud man's disdain.
Lord, please protect poor people
from being exploited by rich people

Recording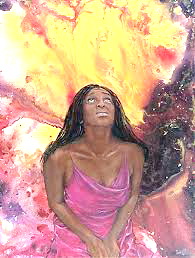 Philemon 9-25
While here in prison, I have helped someone you know to become a believer. He is carrying this letter - Onesimus
I'm sending him back to you, no longer your slave, but your brother in Christ
Please welcome him as you would welcome me. And let me pay for anything he stole from you
May the grace of our Lord Jesus Christ be with you
Jesus, please put an end to slavery in the world
Recording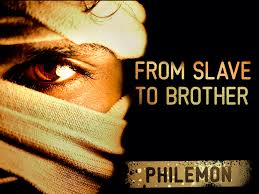 Matthew 9.1-8
Some people carried a paralyzed man through a crowd to Jesus.
The man was on a bed.
Jesus knew that these people believed he could help them,
so he said to the paralyzed man "Courage, your sins are forgiven".
Religious leaders in the crowd were thinking to themselves
that Jesus was wrong to say he could forgive sins.
So Jesus said to the leaders: Which is easier:
to say 'Your sins are forgiven', or to say 'Get up and walk'?
Then to prove that he had authority to forgive sins,
he said to the paralyzed man
"Get up, pick up your bed and go home".
The man got up and went home.
The crowd praised God for what they had seen.
Jesus, please give me more faith in your power to forgive, your power to heal
Recording

The Joy of Love - Pope Francis' letter - on love in the family Full English text
101: Recording

We have repeatedly said that to love another we must first love ourselves. Paul's hymn to love, however, states that love "does not seek its own interest", nor "seek what is its own".
This same idea is expressed in another text: "Let each of you look not only to his own interests, but also to the interests of others" (Phil 2:4).
The Bible makes it clear that generously serving others is far more noble than loving ourselves.
Loving ourselves is only important as a psychological prerequisite for being able to love others: "If a man is mean to himself, to whom will he be generous? No one is meaner than the man who is grudging to himself " (Sir 14:5-6).
75: Recording

We cannot ignore the fact that in cities human trafficking, the narcotics trade, the abuse and exploitation of minors, the abandonment of the elderly and infirm, and various forms of corruption and criminal activity take place.
(Also), what could be significant places of encounter and solidarity often become places of isolation and mutual distrust. Houses and neighbourhoods are more often built to isolate and protect than to connect and integrate.
The proclamation of the Gospel will be a basis for restoring the dignity of human life in these contexts, for Jesus desires to pour out an abundance of life upon our cities.
The unified and complete sense of human life that the Gospel proposes is the best remedy for the ills of our cities, even though we have to realize that a uniform and rigid program of evangelization is not suited to this complex reality.
But to live our human life to the fullest and to meet every challenge as a leaven of Gospel witness in every culture and in every city will make us better Christians and bear fruit in our cities.
Jo

hn and Jessica were on their way home from the bar one night and John got pulled over by the police. The officer told John that he was stopped because his tail light was burned out.
John said, "I'm very sorry officer, I didn't realize it was out, I'll get it fixed right away."
Just then Jessica said, "I knew this would happen when I told you two days ago to get that light fixed."
So the officer asked for John's license and after looking at it said, "Sir your license has expired."
And again John apologized and mentioned that he didn't realize that it had expired and would take care of it first thing in the morning.
Jessica said, "I told you a week ago that the state sent you a letter telling you that your license had expired."
Well by this time, John is a bit upset with his wife contradicting him in front of the officer, and he said in a rather loud voice, "Jessica, shut your mouth!!"
The officer then leaned over toward Jessica and asked. "Does your husband always talk to you like that?"
"Not always," answers Jessica, "only when he's drunk."
Please join me in praying for one part of the world each day of the week:
Sun: Africa Mon: Europe & Russia Tues: South Asia Wed: East Asia
Thurs: S.E. Asia & Pacific Frid: South America Sat: Central & North America

Jesus, today, Monday, please bless the people of Europe & Russia

And praying for prisoners in one part of China each day of the month:
On this 18th of the month, Jesus please bless the prisoners of Shandong
And praying for one of the world's poorest countries each day of the month:
On this 18th of the month, Jesus please bless the people of Ivory Coast
And praying for one Islam-related intention each day of the week:
Jesus, please pacify ISIS
Letters from (mainly African) inmates in Hong Kong prisons - and other drug trafficking items: 2016
This website's Tanzania File
(stopping Africans from being tricked into bringing drugs to HK)
- letters from Tanzanian inmates in Hong Kong prisons
This website's HK Asylum Seekers' File
(stopping South Asians from being "people smuggled" to HK)